Fast Shipping
Flat Rate ten dollar delivery for most products. Most items ship within 24 hours
Online Support
We are here to satisfy our customers. Feel free to call, write or leave a message
Secure Payment
We ensure our product transactions with Secure Payments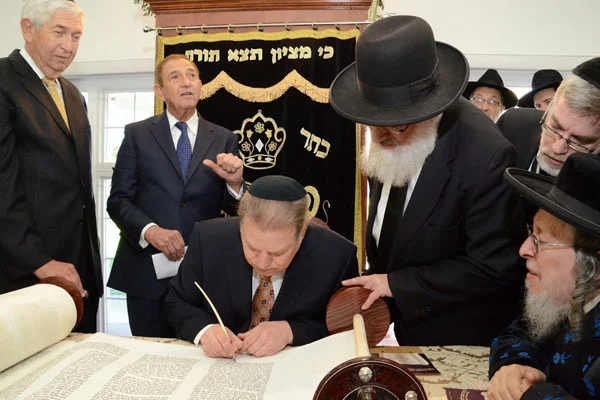 Alberto Attia Sofer STa"M
We put hours of careful work into the writing of our Torahs, Tefillin and Mezuzos. Learn more about the fascinating work of a Sofer STAM and the intriguing world of Jewish scribal arts.
Education
At SeferTorah.net in San Diego, CA, we take pride in the care and dedication put into our work. Our sacred Torah, Tefillin and Mezuzot are written with extreme care by expert Sofrim using only the choicest of natural materials. They are written with a quill on kosher parchment, using a special ink and several other utensils.
I've been blessed to know Sofer Alberto Attia for many years. He's a true scholar and a gentleman. I bought Mezuzot from him and each one looked beautiful but when I showed them to some rabbis they were amazed by the precision and quality. His prices are reasonable and his customer service is excellent!!
Oh my G-d! I received the Tik. It's breathtaking with the gold. It will truly be amazing and befitting our holy Torah. Thank you so so much for everything you have done for me. May Hashem continue to bless you and your family!
It is hard for me to put in words what I feel when I put my tefillin on. It is a combination of many, many thoughts and emotions.. First and foremost... I am being bound to a people... being bound to a Higher Power... to my G-d.. in a way that I never thought possible. Thank you, thank you, thank you!
Honest, decent and exacting to the smallest detail! Just received the megillot of Shir HaShirim and Ruth. They are so beautiful! Took them to my local scribe for him to see. He told me that blessings just entered my home!
Thank you for coming into my life and thank you for guiding my most important Judaic and time honored acquisitions. They are prized! To you and your family, stay well, strong and healthy.
I am so grateful to have been introduced to Sofer Attia. I have had the distinct pleasure of purchasing multiple Megillot and tefillins from him. The quality of what he provides is just Aesthetically beautiful and the Kedusha phenomenal! I have nothing but special compliments about his artistic skill and high standards of products he sells.